Mostly. =)
(Above: Our first grader's workbox and supplies on his desk)
Over the years, we have found that implementing the use of a modified workbox system has helped tremendously in keeping this busy family of five homeschooled kids on task and moving forward each day. Our kids know what to expect. It is easy to use and rewarding as they can clearly see the progress they are making throughout the day. I have greatly enjoyed witnessing our children becoming increasingly independent and taking ownership of their schoolwork. I attribute a large portion of their self-sufficiency to the use of the workbox system.
Our first, third, and fifth grade children still successfully use a plastic file box with hanging files (what we call our workboxes) for their Bible, math, and language arts. However, once our older children hit 7th grade, the hanging files began to droop and break due to the increasing weight and width of their books!
So, what do our older children use?
Workboxes! Just modified, once again…
(Above: Rearranging and making room for the new 'workbox' drawers)
Since we no longer needed our drawers to house ABC and Math Learning Games for our younger kids, we decided to repurpose the drawer units for the older girls!
High School…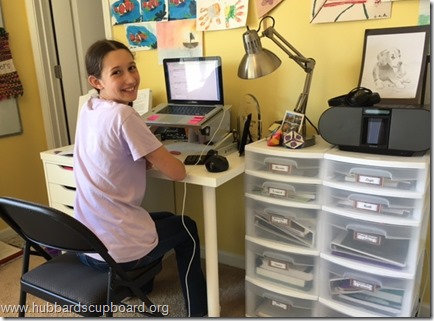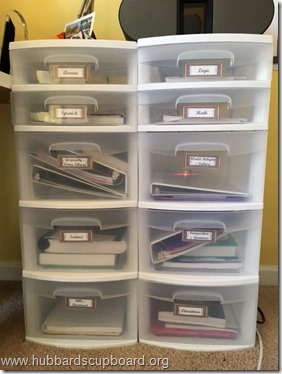 and Middle School….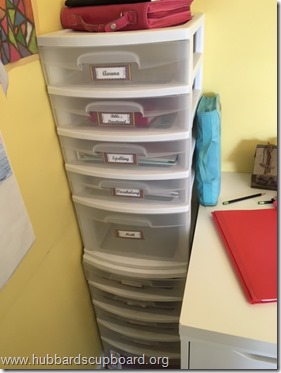 Things that are different…
There are labels for each subject attached to the drawers.
(Printable Labels)
There are no longer removable tags to show when subjects are complete. (They have a weekly sheet that shows them what needs to be done each day. Also, we require them to write down assignments that they complete each day.)
The 'workbox' drawers take up more space and, obviously, can no longer sit on top of their desks.
They provide so much more room for their larger materials (books, binders, etc.)!
Things that are the same…
The drawers provide clearly divided sections to place materials for different subjects.
The organization system keeps things neat and tidy.
The drawers continue to support the goal of working towards greater self sufficiency.
So, yes! Workboxes are still working for us. =) And…we're doing what homeschoolers do best.. tweaking our learning materials and environment to meet the ever changing needs of our students!
Take a Peek at our past 'School Room' Posts…
Homeschooling With a 'School Room' – 2014
Homeschooling – Apartment Style – 2013
Home + School = Homeschool – 2009
____________________________________
This post is part of the 8th annual "Not" Back-To-School Blog Hop over at the iHomeschool Network. Check out the learning environments of other homeschool families!