I love to share resources that I have developed and used with our own children – making joyful learning experiences, often with a Biblical focus.  Many free ideas and printables are located at Hubbard's Cupboard.  The following curricula and eBooks are also available at Joyful Heart Learning for purchase…
Joyful Heart Bible and Rhyme: Joyful Learning for 3-5 year olds
Joyful Heart Bible and Rhyme is a chronological study of Bible stories, rhyming, and letters for 3-5 year olds. Don't let the name 'Bible and Rhyme' fool you though!  In addition to chronological Bible history and phonemic awareness activities, this curriculum also includes an integrated alphabet study, developmentally appropriate math, science, and crafts!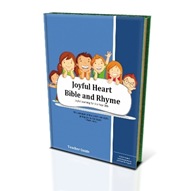 Joyful Heart Spelling utilizes a rules based spelling approach with a biblical emphasis.
It is intended to be used over the course of two to three school years, ideally 2nd – 4th grades, with review skills intermixed throughout.  Highlights of the curriculum include…
– Copywork and dictation of Scripture
– Strategies to use with multiple learning styles
– Built in review of previous skills
– Sight words built into in the lists
– Opportunities to focus on individual spelling needs
Beginning readers and writers need lots of practice playing with words…
and short vowel word families are a great way to start!  Students will read word family words in and out of context, sort pictures and words, and build and write words using the following word families:
-am, -an, -ap, –at, -en, –et, -ig, -in, -ip, –it, -op, –ot, -ub, -ut
Celebrating CHRISTmas: Daily Activities to Celebrate Christmas and the Birth of Christ
This eBook consists of daily Scripture readings, Bible memorization, and fun, hands on activities that relate to God's Word and the season.  My prayer is that children would learn the true meaning of Christmas, hide God's Word in their hearts, and experience the awe, hope, love, and joy of our Lord and Savior.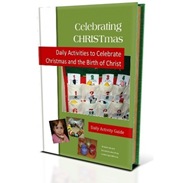 Steps to the Cross: Celebrating Easter and Christ's Sacrifice
At Christmas, we celebrate God sending His Son Jesus to earth as a baby.  Steps to the Cross is a natural continuation of learning about Jesus Christ our Savior.  This eBook contains daily readings of Scripture, a Bible passage to memorize, and ideas for activities and crafts for children to engage in during the 13 days leading up to Easter that will point them to the cross.