It is the start of the 4th annual "Not" Back-To-School Blog Hop over at the iHomeschool Network. This week, homeschoolers are sharing their curriculum choices for this coming school year!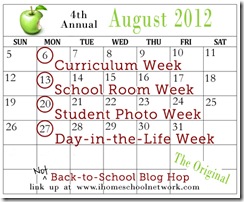 _______________________________
Our school year doesn't start for another week or so, but our toddler, PreK child, 1st grader, 3rd grader, and 5th grader are ready to go! My 4 1/2 year old is so insistent to start school that she gathered a bunch of readers and some extra workbooks and convinced her older sister to do school with her a few days this summer! I guess I had better get to planning. =)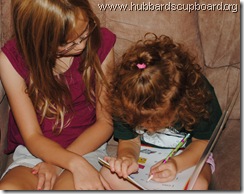 After praying, researching, waiting, and talking with some other friends who homeschool, a lot of the curriculum decisions for this school year have finally been made!
History / Geography
Although we have LOVED using My Father's World, this year we are planning to use Preparing Hearts For His Glory by Heart of Dakota. Preparing Hearts is a 35 week, 4 day a week study of world and Biblical history that I feel our three oldest children (grades 5th, 3rd, and 1st) will all be able to participate well in together and then be ready to dive into MFW Creation to Greeks next year. (Anyway, that it is the current thought that may or may not change. =) ) For Preparing Hearts this year, in addition to the history readings and related historical read alouds (see below), the kids will have an independent history study and a weekly history project that they can work on together as well. As of right now, I am thinking that my 5th and 3rd grader will complete the independent history study as scheduled in the teacher's manual, but my 1st grader will have this section modified (maybe just listening to the scheduled reading, doing some of the drawings from Draw and Write Through History that are scheduled, and less copywork).
Science
The science portion of Preparing Hearts loosely correlates to the history topics that the kids will be studying. For example, as the author states, "While students read about the Israelites wandering in the desert in history, they will study about the desert habitat in science. When students are reading about seafaring explorers in history, they will study the coral reef in science." For each week, the kids will have one notebook entry, answer questions (written for the 5th and 3rd grader, but oral for my 1st grader), and complete a science experiment/lab sheet that corresponds to their daily readings.
Bible and Devotions
Our 24 Family Ways: Family Devotional Guide
Reading a chapter in Proverbs daily (and for a short time, we also plan to read Wisdom and the Millers)
Preparing Hearts study of the Psalms (including memorization and copywork)
AWANA memory verse work (We have a third year T&T, a first year T&T, a second year Spark, and a second year Cubbie!)
Bright Lights Bible Study (3rd and 5th grade girls)
Read Alouds
Preparing Hearts schedules the following as history readings– Grandpa's Box, A Child's History of the World, Life in the Great Ice Age, and Hero Tales. They also schedule historical read alouds that are linked to the time periods being studied – The True Story of Noah's Ark, Tirzah, Classic Treasury of Aesop's Fables, A Triumph for Flavius, Fountain of Life, Viking Quest I: Raiders of the Sea, The Door in the Wall, The Wonderful Winter, The Family Under the Bridge, and Twenty and Ten. (I like how the oral narrations, written narrations, a related Bible verse, and questions are all integrated and scheduled -ready for me to use with the kids!)
Reading / Language Arts /Math
our 5th grader…
Readers: She will be following the extension package reading schedule as found in Preparing Hearts as well as doing free choice reading on her own.
Writing and Grammar: BJU English and Writing 5
Horizons Math (completing Level 4 and heading into 5)
our 3rd grader…
Readers: chapter books from Sonlight and ABeka, as well as free choice reading on her own
Writing and Grammar: BJU English and Writing 3
Cursive Handwriting – completing the second half of the Reasons For Handwriting Transition book
Horizons Math 3
our 1st grader…
Readers: ABeka 2nd/3rd grade readers, as well as free choice reading on his own
Explode the Code (books 4 -6)
Grammar and Punctuation (one time per week, oral)
Write a Super Sentence (one time per week)
Horizons Math 1 (continuation from last year) and moving into 2
our PreK child…
lots of emergent readers/phonics readers
lots of playtime with her little brother
second semester – begin Explode the Code 1 and Horizons Math K (not everyday)
our 2 year old…
Lifeskills and Extracurricular Activities
Gymnastics (5th, 3rd, and 1st graders)
Family Chores
_______________________________
Are you curious what our planning looked like in previous year's?
2011-2012 (4th, 2nd, K, 3's preschool, toddler)
2010-2011 (3rd, 1st, PreK, 2 year old, 4 mo old baby)
2009-2010 (2nd, K, 3's preschool, toddler, baby arrived end of year)
2008-2009 (1st, PreK, 2 year old, 6 mo old baby)
2007-2008 (K, 3's preschool, toddler, baby arrived mid year)
2006-2007 (PreK, 2 year old, 7 mo old baby) – Joyful Heart Character
2005-2006 (3's preschool, toddler, baby arrived mid year) – Joyful Heart Bible and Rhyme
2004-2005 (2 year old, 6 mo old baby) – Joyful Heart Learning