I'm hesitant to post this, especially after my last entry on The Joy Stealer. If you are another homeschooling mom, please don't let this post steal your joy! Either skip it all together or read with a heart full of grace (towards me and yourself) and follow Christ's leading for your own family.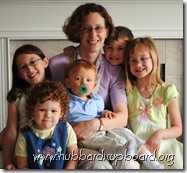 During this school year, our class/school/family consists of a 4th grader, 2nd grader, kindergartener, 3 year old preschooler, and a toddler. We have a wide range of needs to meet this year! So, in God's strength, we embark on another homeschooling year. This post is about what we hope to accomplish. Although, as we walk with Him, I am sure God will have us all learn so much more (including mommy)!
History / Geography
This year, we will be continuing the second half of Exploring Countries and Cultures from My Father's World Curriculum. Our main geography will be focused on learning about various countries around the world – learning about the cultures, and experiencing music, food, and art from each country. We will also continue to pray for unreached people groups using Window on the World. We are ready to get on our travel gear and continue our journey around the world!
Science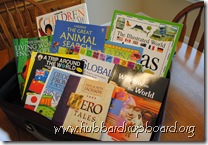 As we learn about different countries and cultures, we will also be learning about the animals that live in those environments. We plan to continue to use the resources suggested in the MFW ECC curriculum – The Living World Encyclopedia, Properties of Ecosystems, The Big Book of Animals, The Great Animal Search, and the Encyclopedia of Animals. The older girls will also be drawing animals to coordinate with the different continents and regions/habitats of the world using Draw Write Now.
Bible and Devotions
Daily Proverbs
MFW study of the book of Matthew
(including copywork for the oldest two girls ~ You can find free printables to coordinate with the verses from Matthew here.)
We plan to finish up Proverbs Family Night Tool Chest by Jim Weidmann and then move into 10 Commandments Family Night Tool Chest, also by Jim Weidmann– one night a week with Daddy! (Updated: We, somehow, got away from doing the family nights and, sadly, neither of these actually happened this school year.)
Read Alouds
MFW Exploring Countries and Cultures incorporates the reading aloud of YWAM missionary stories. Our family LOVES these books. Since we have already read the books mentioned in the curriculum, we chose three others to correspond with our study of particular countries – Ida Scudder (India), Hudson Taylor (China), and David Bussau (New Zealand, Australia, Indonesia).
Read Aloud Passages & Strategies to Model Fluency by Rachel Mann (Updated: This did not work for our homeschool.)
Art
The Usborne Art Treasury by Rosie Dickins– learning about an artist and making a corresponding piece of artwork
Art Appreciation: Child Sized Masterpieces Steps 1,2,3 Intermediate and Advanced by Ailne Wolf (Updated: Ha! We never even took these apart to use them. Oh my….I completely forgot to incorporate them.)
Foreign Language
Last year, our oldest two children began using Rosetta Stone. I noticed that they enjoyed doing the lessons, but the rest of the family had no idea what they were doing! So, the additional resources reflect a desire for all of us (preschooler–adult) to be able to start learning some Spanish!
Reading / Language Arts /Math
our 4th grader…
Readers: Sonlight readers, free choice reading on her own
Copywork – Bible verses from MFW Matthew study
Writing and Grammar: Writing Tales Level 1
Partner Poems for Building Fluency by Bobbi Katz
(These look pretty easy, but it is to be used with her 2nd grade sister as well.) (Updated: These were too easy and we ended up discontinuing spending the time on them.)
Horizons Math (completing Level 3 and heading into 4)
Mental Math and Math Drills
(Updated: We started this and it went well, but then I discovered Xtra Math and we love it!)
Heroes of Faith: The Hidden Treasures in Hebrews by Evelyn Wheeler (an inductive Bible study) (Updated: Our 4th grader started this, but then she had the opportunity to join a Bright Lights group. She has learned so much!)
our 2nd Grader…
our kindergartener…
our preschooler…
(Updated: After completing Joyful Heart Bible and Rhyme, I brought out the first level of BOB books, the One Sheet Word Family Stories, and created some additional materials for word families to use with our preschooler as she was ready to read!)
our toddler…
playing and exploring!
learning to sit still for a book with mommy or a big sibling
Lifeskills and Extracurricular Activities
Sewing –I think we will try to make the switch from hand to beginner machine sewing!
(Updated: We successfully completed two machine sewing projects. Does that count?)
Gymnastics (oldest four kids)
Ballet 101 & 201, Combinations 1 DVD course (4th grader)
(Updated: She worked on this faithfully throughout 1st semester.)
AWANA – We have a 2nd year T&T, a 3rd year Spark, a first year Spark, and a Cubbie!
Family Chore Time
Some homeschool outings/ field trips (Updated: Well, this was not what we envisioned at the start of the school year, but we went to the Children's Museum several times, an outdoor living history museum, to Florida for training in missions (and first time experiences at the ocean for the kids), and our 4th grader traveled to Thailand on a Vision Trip for two weeks.)
Some of the above will change during the course of the school year as we finish our study of MFW Exploring Countries and Cultures. We are still praying about what will replace the Bible, geography/history, and science once MFW is completed in order to round out our school year.
(Please note: This post was updated – the portions in italicized parenthesis- towards the end of the 2011-2012 school year to reflect curriculum changes that we made during the course of the year.)
_______________________________
Are you curious what our planning looked like in previous year's?
2010-2011 (3rd, 1st, PreK, 2 year old, 4 mo old baby)
2009-2010 (2nd, K, 3's preschool, toddler, baby arrived end of year)
2008-2009 (1st, PreK, 2 year old, 6 mo old baby)
2007-2008 (K, 3's preschool, toddler, baby arrived mid year)
2006-2007 (PreK, 2 year old, 7 mo old baby)
Joyful Heart Character
2005-2006 (3's preschool, toddler, baby arrived mid year)
Joyful Heart Bible and Rhyme
2004-2005 (2 year old, 6 mo old baby)
Joyful Heart Learning
________________________________
It is the 3rd annual 'Not' Back to School Blog Hop hosted by Heart of the Matter Online! This week's focus is on curriculum. In the following weeks, they will also share 'school' rooms, student photos, and a day in the life. If you choose to hop, guard your heart and mind, give yourself grace, and encourage others as you take a peek at what fellow homeschoolers are preparing for in this coming school year! (Yes, I am reminding myself as well =) )