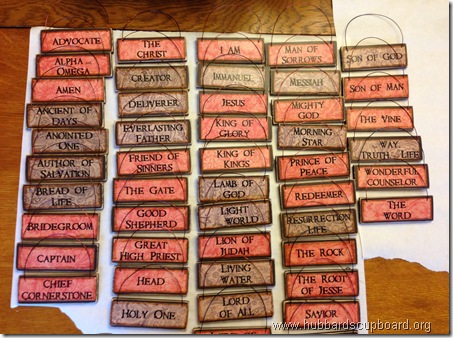 Last year, after coming across this wonderful tutorial, our family decided to make ornaments with the names of Jesus on them to share at Christmas time. It was definitely a whole family project – but so rewarding in the end! After assembling many to give away, we then agreed to work together to create one more complete set to display on our own Christmas tree.
Want to take a peek at the process? We pretty much followed the instructions in the tutorial at Today's Fabulous Finds, but I created our own name set with a different font.
1) Gathering the supplies:
(large paint sticks, scrapbook paper, printed names, brown ink pad, Q-tips, chocolate colored spray paint, sandpaper, Modge Podge, foam brush, wire, ruler, small hand saw, drill, pliers)

2) Preparing the Printable Names:
Copying, Cutting, and Inking the edges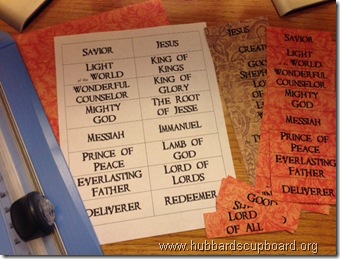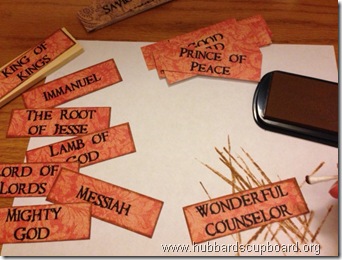 3) Preparing the Paint Sticks
Measuring, Marking, and Cutting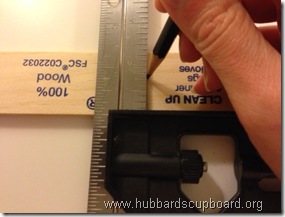 4) Assembling the Ornaments:
Attaching the Printable Names with Modge Podge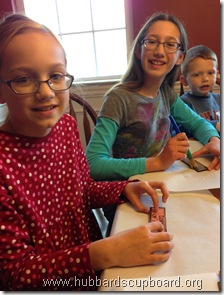 Cutting the Wire and Threading it Through the Holes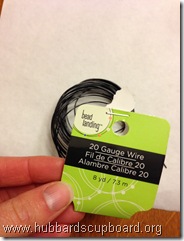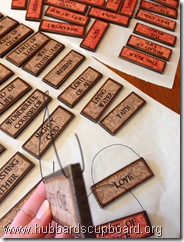 5) Enjoying the Ornaments!
Creating the Names of Jesus Ornaments was a memorable time of working cooperatively as a family – AND we now have a great visual reminder of who Jesus is to display each Christmas season.