Last week, I shared several components of Joyful Heart Spelling Skills.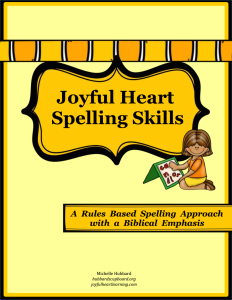 Spelling – Bible Copywork and Dictation
Spelling – A Rules Based Approach
Spelling – Build It
Spelling – Write It a Different Way
Spelling – Making it Varied
Now that you have a feel for what Joyful Heart Spelling Skills looks like, you might be asking –
Would Joyful Heart Spelling Skills be a good fit for my child?
From Phonics to Spelling
For many years, at Hubbard's Cupboard, I have had the privilege of sharing many secular and Bible based literacy resources for early childhood and kindergarten aged children. The Joyful Heart Spelling Skills curriculum builds from these previous years of experience and resources.
The following are my personal suggestions for what to use leading up to the start of Joyful Heart Spelling Skills:
The literacy activities, above, prepare children to take the step from phonics (learning the sounds each letter makes and how to combine the sounds to form words; translating written words into spoken sounds (reading/decoding) ) TO spelling (applying phonics skills to writing sounds that one hears (writing/encoding) ).
Obviously, you don't have to use the resources that I mention above, but as a Christian educator I would encourage you to look for curriculum or materials that have similar characteristics…
materials that incorporate God's Word with learning

phonemic awareness activities

experience with word families/ rhyming

sequentially taught phonics lessons for learning to read

read alouds

lots of practice and enjoyment of real books/readers that progress in difficulty with the child's growing competence in mastering reading
So, when would I recommend starting Joyful Heart Spelling Skills?
I designed this spelling curriculum to be ideal for 1st-3rd graders (as well as some 4th graders who have experienced difficulty/frustration with spelling in the past).
Children entering Joyful Heart Spelling Skills should be developing a greater attention span, have a firm grasp of how to correctly form letters, be able to read longer words quickly and easily (fluent), have some experience with copying words/phrases or short sentences, and spell 3 letter CVC words without difficulty.
Although there are many aspects of this curriculum that might appeal to children earlier than first grade, the component of Joyful Heart Spelling Skills that needs to be considered when determining if a younger child is ready for beginning this curriculum is the copywork and dictation. Copywork and dictation are used generously in Joyful Heart Spelling Skills and requires a great deal of fine motor control. Some advanced kindergarten children may be able to use a portion of the materials (especially the 'Cut It! Sort It', 'Build a Word', and 'Write It a Different Way' portions.) However, I would be hesitant to use this curriculum with a child under first grade age due to the copywork/dictation aspect that is a vital part of learning and practicing the spelling skills. So, although there are hands on learning opportunities within Joyful Heart Spelling Skills, I would not advise using this curriculum with younger children as I believe that it would not be developmentally appropriate AND there are so many other skills that those younger learners need to grasp first =) .
My advice – consider my above recommendations and PRAY.