By placing Scripture verses to tunes, there are usually several verses that regularly come to mind quickly as I sit down to discipline one of the children.  However, I always wish that I could remember the multitude of other verses that we have read that would fit the situation as well – and, most importantly, in a timely manner!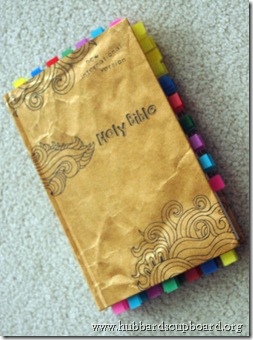 So, when I recently came across information for the Child Training Bible, I realized that this may just be the tool that I have been needing!    Starting with any version of the Bible, you can use the charts created by Mindy Dunn and her idea for highlighting and tabbing key Scriptures to create a quick, easy to use, Scripture reference tool.
Mindy has selected Bible verses that pertain to just about every child's common sinful tendencies (and yes, even their mama's as well).  From anger to fear, jealousy to laziness, wrong friendships to quarreling – verses are marked and tabbed, ready to be quickly located and shared to show what God's Word says about each of these sin issues.
A couple of drawbacks about the Child Training Bible:
-The total cost to create our Child Training Bible was around $35.00.  This seems a little pricey, but I believe that the benefit to our family is going to far outweigh this cost!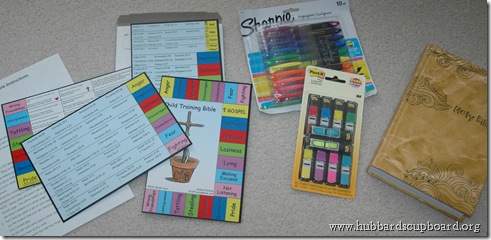 What you'll need to create your own Child Training Bible:
– laminated Child Training Bible charts and instructions created by Mindy Dunn ($9.00)
– package of highlighters, coloring crayons, or colored pencils that match the colors on the laminated charts (yellow, dark blue, red, green, purple, light blue, and pink)
– package of coordinating sticky tabs
– 9 by 6 inch Bible of your choice
-I spent around 4 hours locating and highlighting Scripture verses and tabbing pages.  Again, in the long run, this is not a lot of time compared to the ability to have this handy tool during times of instruction.  Also, I enjoyed being in God's Word and reviewing the Scripture verses for myself as I put it all together =)
The many things I like about the Child Training Bible:
-It gets all of us delving into God's Word to read, hear, and see for ourselves what God desires for us, instructing us using His very Words.
I wholeheartedly agree with Mindy Dunn, creator of the Child Training Bible, when she states…
Whenever there is a problem, I want to train my children to immediately run to the Lord, seek His Words, and allow His truth to saturate the situation.
-I was able to use the charts with the version of the Bible that I desire for our family to use and that I know my children understand best.
– The laminated charts include questions to ask your child as well as a short, sample prayer using Scripture to pray with your child that relates to each behavior.
-Mindy and her husband created a tutorial that shows, step by step, how to assemble the Child Training Bible.  Although they do send written instructions, as a visual learner, I do so much better with photos and demonstrations!
– I can easily highlight and tab additional Scripture references that we come across that are fitting for certain discipline areas.  I've already added verses from the Joyful Heart Tune Charts, highlighting them in the color that most relates to a specific sin area.  I am sure there will be others as well!
I plan to leave this out for easy access by all in our family and am prepared to turn it into a well worn treasure – just as God's Word should be.
 Please note that I was not asked to review this product.  I am simply sharing a purchased resource that I think will be beneficial for my own family and is in line with my heart for training and instructing our children in His Ways!