At the end of another school year, our kids' course loads may be slowing down, but my mind is racing with things I need to do for closing out the year.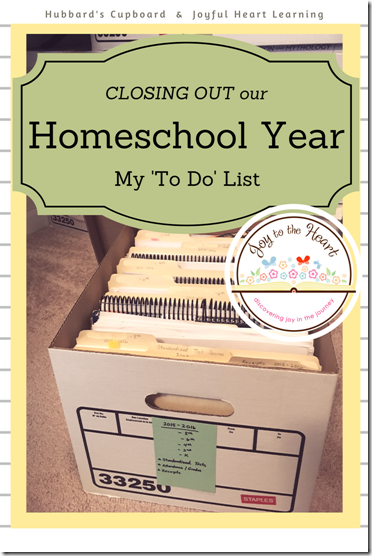 What's on my End of the Year 'To Do' List?
1) Year End Celebration
Although some may say that I tend to go a wee bit overboard on our first day of school festivities, I prefer a much simpler end of school celebration. It may be playing in the sprinkler and squirting water guns at each other followed by popsicles or taking everyone out for ice cream and making sure to take time to make a summer bucket list. Of course, many years, we have also just let the last day quietly slip past and delve straight into summer.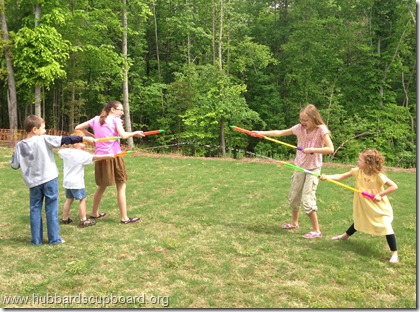 Want some fun ideas for commemorating your school year?
2) Required Record Keeping
Each state has different requirements for homeschooling and recordkeeping. For the end of the year, our state requires us to file student attendance and a final grade or academic progress report. So, I will be figuring our student's final grades and registering those online with our accountability group. I also have a paper report card for each child that I save with their portfolio. (See my 3rd 'to do', below.)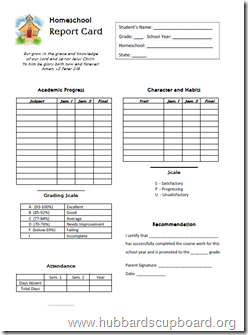 Free Printable Homeschool Progress Report
3) Filing Away Student Work
I have a vinyl expanding document file organizer for each child in which I store their first day Growing in Grace Sheets and first day notes, completed compositions, subject area tests, artwork (if it fits), any awards, standardized test scores, their progress report, etc. that I have collected over the course of the school year. Once all individual coursework is finished, I also gather their completed Daily Progress Sheets, science notebooks, and completed AWANA books. I also print out a list of curriculum each child used to study content in each subject area.
After all of these materials are gathered, my task becomes to organize it in manila file folders, label each file, and place them in a bankers box – one box per family per school year. (Some years, the materials have fit a bit more snugly than others!) I label the outside of the box with the school year and all the kids' names and grade levels.
Inside the front of each year's box, I also store a file full of curriculum receipts and expenses procured for anything school related.
Then, I just store these portfolio boxes away in a closet.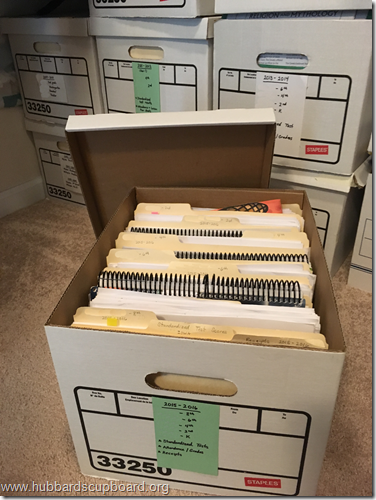 4) Cleaning and Reshelving
Now, if I wasn't so obsessed with needing things to be clean and organized, my end of the school year 'To Do' list could almost be complete. =) However, my kids know that they are not completely done with their school year until their desks and workboxes have been purged and cleaned. This step is purely for my sanity…and they do it (most with a willing spirit) because they love me.
While they are cleaning their desk areas, I am reshelving the past year's curriculum into our school closet (um, and probably reorganizing that closet while I'm in there).
It helps tremendously to have this step finalized before the influx of new curriculum materials arrive!
5) Document Memories
After putting away the old year's work and materials, everyone starts to breath a little easier and the kids can begin to thoroughly enjoy their summer break. For me, I have one more important task to accomplish. I take time to download and organize all of our photos of family learning for the school year. I then spend a couple hours each day for about a week devoted to reminiscing and creating our homeschool yearbook. There is so much value in recording and documenting memories from the school year!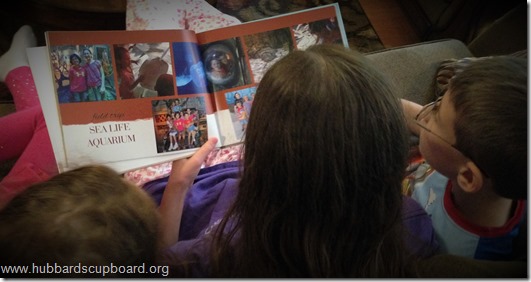 6) Rest, Reflect, and Pray
Resting. That can look different for each person. Some may enjoy just curling up with a good book, swimming, sleeping in, walking, etc. Me, I simply enjoy having more unscheduled, unhurried time, a time to just 'be' with my kids, as well as an opportunity to do a few projects that have been neglected during the course of the school year.
Reflecting. Although we do make adjustments as needed throughout the school year, I try to take time to meet one on one with each child at some point shortly after the end of the year to get their final take on their learning experiences from the past school year…
What did they think was the most memorable activity from this past school year?
Which subject or materials did they enjoy the most / least?
What do they think worked well for them? Why?
What areas may have felt challenging for them? Do they have any ideas for how we can make it better?
Do they have any interests that they may want to pursue more in the new year?
Are there any extra-curricular commitments that they have been faithful to complete that they no longer desire to be a part of?
And a final question to reflect on with my husband… Do they have a love for learning and a love for God and His Word? (This one can be answered by reflecting on observations you made during duration of the school year.)
Praying. This never really stops, does it? But, it seems that my most focused time of praying for our homeschool is towards the end of one year and before the start of the next. There are so many decisions to be made and the weight of choosing wisely and providing well for the academic, spiritual, social, and emotional needs of each our children, in my human frailty, can feel quite overwhelming. I need Christ's strength, His wisdom, His direction, and the encouragement from His Spirit and His Word to find true peace and rest in Him.
For the LORD gives wisdom, and from his mouth come knowledge and understanding.
~Proverbs 2:6

For everything that was written in the past was written to teach us, so that through endurance and the encouragement of the Scriptures we might have hope.
~Romans 15:4

May the God of hope fill you with all joy and peace as you trust in him, so that you may overflow with hope by the power of the Holy Spirit.
~Romans 15:4
7) Start to Formulate a Plan for the New Year
Yes, wrapped up into the process of closing out one school year is the planning for a new one! As I come across curriculum that I think I want to use with our kids, either for the new school year or at some point in the future, I mark it down, in pencil, so that I don't forget it. I like to try to make a curriculum map of sorts for each child (especially as children approach the middle school and high school years). But, since it is all written in pencil, I can easily change it to reflect our children's new goals or interests. The map just helps me to get a big picture overview of our homeschool years and assists me in getting my thoughts organized in one handy spot.
Free Printable Curriculum Mapping Sheets
Well, that about rounds out my end of year 'to do' list. Now, maybe I can focus on the last few days of school!