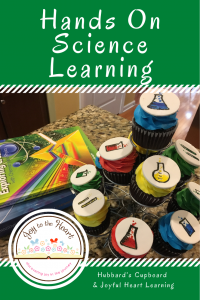 For the past few years, my children and I have been blessed to be able to meet two times per month with a few other homeschooling families. We've enjoyed participating in art and science together – reinforcing concepts through hands on activities and learning alongside our friends!
This past school year, our homeschool group used Apologia's Exploring Creation with Chemistry and Physics for our 3rd – 6th grade children (while our high school aged girls used Apologia Chemistry). We explored topics such as the states and properties of matter, atoms and elements, physical and chemical changes, mixtures, the three laws of motion, different types of energy, magnetism, and simple machines. It was a full year of discovery!
Apologia incorporates a ton of experiments within the text, and we did many of them as we came to them during reading. However, when we met together as a group, we wanted to provide opportunities to review vocabulary, reinforce concepts, and do additional activities that would support what we were all learning at home.
After collaborating with the other moms for ideas, I created experiment packets for each meeting time that we then worked through together. If you'd like to utilize these same hands on activities, the Hands On Chemistry and Physics Experiment Packets are now available for sale over at my TPT Joyful Heart Learning store!
We had such an enjoyable year of learning with friends, and we are all looking forward to our next year of science explorations together!