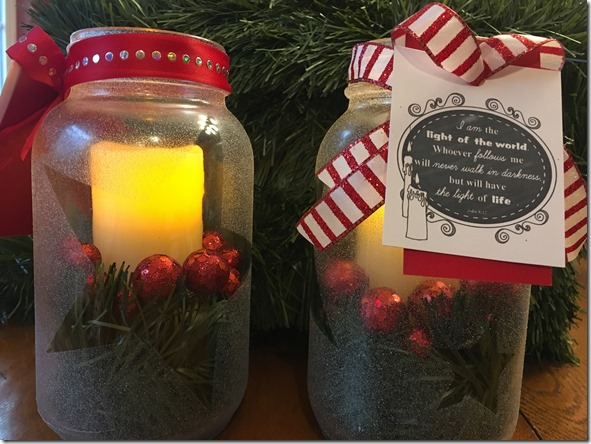 The people walking in darkness have seen a great light;
on those living in the land of the shadow of death a light has dawned.
For to us a child is born, to us a son is given,
and the government will be on his shoulders.
And he will be called Wonderful Counselor, Mighty God,
Everlasting Father, Prince of Peace.
Of the increase of his government and peace there will be no end.
~ Isaiah 9:2, 6-7a
Christmas is the celebration of the birth of Jesus Christ! I'm so thankful that, while we were lost in darkness and sin, God sent His promised Savior and His One and Only Son – to bring light to our darkened world, to penetrate our sin laden hearts, and to shine the Truth of His holiness, justness, love, and grace.
I'm thrilled to be part of the Bible Christmas Crafts for Kids series hosted by Danika at Thinking Kids . Today, I'm sharing a simple Light of the World Jar Candle Craft that could be a delightful gift and/or decoration for helping us to reflect on Christ this season!
Jesus, The Light of the World Christmas Craft for Kids