So, what do you do when you come to the realization that the homeschool history curriculum you purchased for your kids just isn't working out the way you envisioned? Well, you create your own, of course!
The scheduled readings in the purchased curriculum for my first and third grader seemed dry and uninteresting. So, I sold the guide and the corresponding books, but decided to focus on the same time period of American history. I chose to use picture books that have great illustrations, are packed full of information, and hold my sweet children's attention. Most importantly, my younger kids (and I) are enjoying learning about history again. =)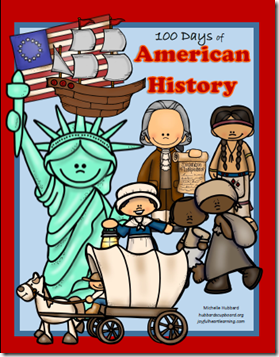 Would you like to take a 100 day adventure of American history with us? Travel through books from the time when Squanto was a boy and the time shortly before the Pilgrims arrived through the late 1800's and the turn of the century! 100 Days of American History is free and contains a list of books recommended for use during the 100 days as well as coordinating notebook pages! May you and your children enjoy this study as much as our family.