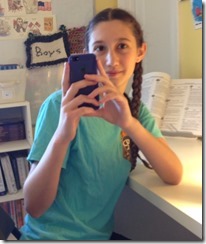 ____________________________________
This post is part of the 8th annual "Not" Back-To-School Blog Hop over at the iHomeschool Network.  This week is 'Day in the Life' Week in which homeschooled students share what their days are like!  Today, I'm letting my oldest daughter take over the blog so that you might be able to get a glimpse of her day to day life as a homeschooler.  Enjoy!
____________________________________
Well… I don't think you are usually allowed to do cartwheels with your little sister in a typical school hall way,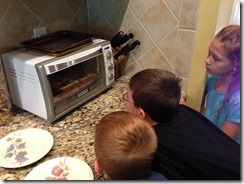 or make special treats for snack.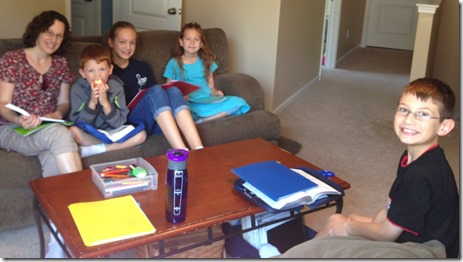 Also, you are not normally in a class room family room with five different grade levels, all learning different things at the same time. Unless … Your home is your school, your mom is your teacher, your siblings are your classmates, and the world is your classroom!
This is my day as a ninth grade homeschooler.
We generally get up about 7 o'clock each morning. Once we're up, we can work on school before breakfast, read our Bible, etc.  I found my 5th grade brother doing school this morning when I came out of my room. (This often occurs because he is an early riser.)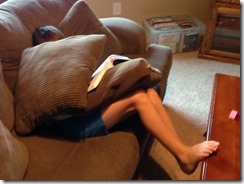 This is what happened though when I tried to take his picture. ;-)
After breakfast, I go up to the school room to see what I have for school that day.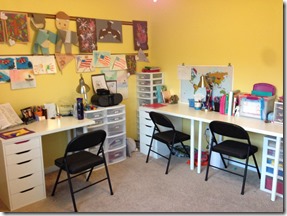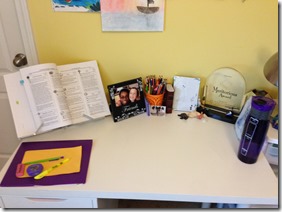 This is my sheet that tells me what to do each day. As I get things done, I highlight them with a highlighter. To make it easier to see which day I did each subject, I use a different color for each day. (My curriculum this year is scheduled for four days each unit, but I can spread it out over five days or have one lighter day!)
My 7th grade sister is also taking pictures of her day today.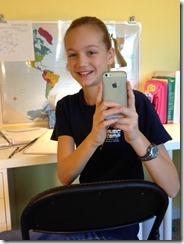 Ok. So, maybe it didn't quite work out like that. If you have ever been homeschooled for any amount of time, you know studying doesn't always go that smoothly. There are almost always distractions …
like funny little brothers…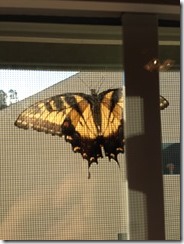 or beautiful butterflies….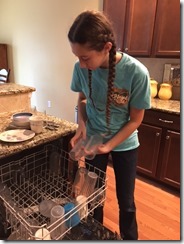 or chores (Does that count as a distraction? Maybe not.)…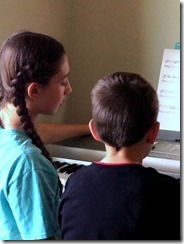 or giving piano lessons…but we normally get back on track.
Also, did you think we just did book work? No way!
Above, I'm making clay stamps. In the picture to the right of that, we are all painting our clay turtles that we had sculpted on a previous day. In the photos below, I'm writing a song and playing violin. (I also play piano.)
For recreation, I like to do gymnastics (Remember the cartwheels in the hall way?), dance about the house,  and ride bikes around our neighborhood when it's not too terribly hot.
Additionally, our family gets together with other families from church to do our science labs and more art. Yay!
After I finish my school work, I enjoy reading a good book (Historical fiction is great!), sewing, playing music with my siblings, and writing stories.
So, that's my day. It's busy, but it is also fun! Sometimes people ask me how I like homeschooling, and, to tell you the truth, I love it!  I wouldn't trade this style of learning for any other way. Thank you for pouring so much time and effort into my life, Mom!  I love you!
P.S:  The special treat that is shown towards the beginning of this post is called Chocolate Bread. It is a yummy, easy to make, snack that my siblings and I enjoy.
Chocolate Bread


Ingredients

– 1 slice of bread  – butter  – chocolate chips  – peanut butter chips (optional)

Instructions

1. Spread butter onto your slice of bread.
2. Place your chocolate (and/ or peanut butter) chips onto your slice of bread.
3. Bake your bread in the oven until the chips melt. (As you saw, we used a toaster oven.)
4. Once your bread has been baked, spread your melted chips over the bread.
5. Eat your Chocolate Bread and enjoy!