In anticipation of using them with my next little reader, I've been busy creating some simple CVC booklets and corresponding sheets…
The CVC Emergent Phonics Readers come in both an 8 1/2 by 11 colored teacher version as well as a half page black and white student version. These are freely available over at Hubbard's Cupboard! There is one booklet per short vowel and three additional booklets for review of all the vowel sounds. Here is a quick peek…
The corresponding CVC Word Work sheets are available for purchase over at our Joyful Heart Learning shop at Teachers Pay Teachers.

For each vowel, you'll find opportunities for your emerging reader to sort pictures and word cards, play Bingo, color pictures containing a certain vowel sound, read/match/and glue pictures, read/stamp/and trace CVC words, cut apart letters and manipulate them to form words to match the pictures and then write the words, read sight words and CVC words in context of a simple repetitive story, and more!
There are also sheets designed for review of multiple vowel sounds at a time – including the following…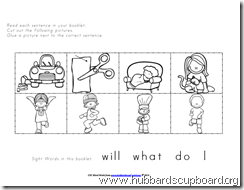 May you enjoy these resources with your budding reader as well!