While working on plans for this upcoming school year, I decided that I really wanted our youngest daughter to memorize two passages of Scripture ~ Exodus 20:1-17 (The Ten Commandments) and Proverbs 31:10-13 (the virtuous woman).  In order to combine subjects and enhance learning, I created several booklets to coordinate with each passage of Scripture.  And, this is what was formed…
Scripture Based Handwriting, Sight Words, Copywork, and Bible Memory Cut Aparts!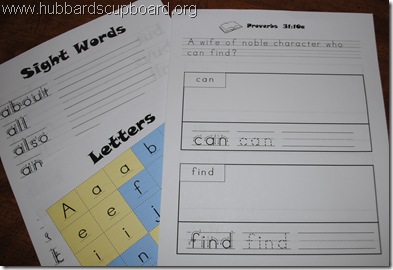 Hop on over to Hubbard's Cupboard to print out your own FREE sheets!