It is finally time to unveil Joyful Heart Bible and Rhyme: Joyful Learning for 3-5 year olds!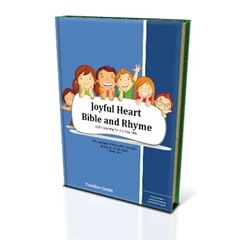 It was a huge undertaking to revise this curriculum, but I pray that it will be a blessing to you and your family.
The following are updates/upgrades from the free lessons online at Hubbard's Cupboard:
ADDITIONAL PRINTABLES – I created TONS of new sheets to go along with all of the suggested activities!

FONT SORTS – All of the letters needed are included with the sorting mats and a few VARIATIONS are given to switch it up a bit.

GROUPED DOCS for FASTER & EASIER PRINTING  (for example, all of the Letter Art Sheets, all of the Letter Craft Sheets, Bible Memory, etc . Now, they can easily be printed ahead of time, sorted into files or placed together in a binder or notebook – ready to go!)

WEEK BY WEEK LESSON DOCS – These contain the weekly/daily plan, all of the week specific printables, and a new MATERIALS PREP LIST all in one document per week.

Now, there are UN-NUMBERED REVIEW WEEKS, making it simpler to insert review weeks near the holidays and giving greater flexibility to start the curriculum when you want.
There are almost a thousand pages included in the revision.
See all the details about Joyful Heart Bible and Rhyme at Joyful Heart Learning!