As a busy mom with five little ones, four of whom enjoy playing games on our iPad, I was tired of hearing, "Whose turn is it?  How long can I play for?  She had it longer than me!   It's MY turn now!"   With all the arguing and bickering created over using the iPad, I wasn't certain all those cool games, whether educational or not, were really worth the hassle and stress. (And you somehow thought our family might be different?  LOL!)   
Then, my knight in shining armor (aka my software loving husband) said, "I could make an app for that."   So, after teaming up with a great designer (William Larsen), devoting countless hours, and using our all too willing kids as testers, there IS now an app for that!
I'm excited to share with you an app that makes sharing any iOS device less stressful for parents…
Your Turn – Kid Timer!
So, how does it work?
It is pretty simple, actually!
As your child plays, Your Turn counts down the minutes until the next child's turn. When time is up, Your Turn signals to both kids that it's time to switch. With the tap of a button, the new child's turn begins. It's super easy and kid friendly.
FEATURES
* Add any number of players
* Set playing time per player
* Disable a player who isn't playing without having to delete
        (The animal will look as though it is asleep!  Super cute!)
* Choose one of six different fun farm animals (pig, horse, donkey, dog, cow, or chicken)
* Plays a warning sound (the sound of the animal that is next) one minute before the timer expires
* Plays an alarm sound (and shows an alert when timer expires
      (This is longer than the warning sound and plays background music with the next player's animal sound – very fitting for the theme!)
* Plays sound of next player so that they can listen for their sound
* Sounds match player's farm animal
* Start next player from the alert
* Can be used without an internet connection
* Compatible with iPhone, iPod touch, and iPad. Requires iOS 4.1 or later.
SCENARIOS
Scenario 1: "I want my older child to have a bit more time to play than my younger one."   No problem—Your Turn allows parents to set individual time allotments for each child. These time settings are saved and do not have to be set each time.
Scenario 2: "I have assigned each of my kids to a farm animal sound but one of them isn't going to be playing right now."  Simple, click a button and Your Turn will remove that child from being timed until their animal is turned back on by you.
Scenario 3: "I only have one child but I want to keep track of the time he is using my iPhone."  Of course, just assign yourself one of the farm animals and when you hear your animal sound it's time for junior to hand the phone back.
Free yourself up from officiating whose turn it is and help your kids learn to share with the help of Your Turn.
When Your Turn – Kid Timer was released in the Apple App Store, we had a family 'release party' of sorts!  The cupcakes are based on two of the fun barn animal characters kids can choose from.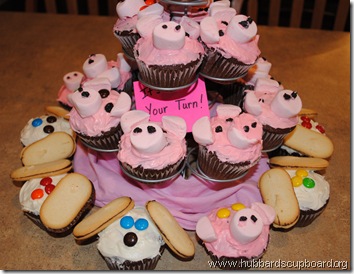 Do you want to WIN IT?
Come celebrate with us!  No, I can't offer you one of the tasty cupcakes, but I can offer you a free app!  As a special promotion, my hubby has given me promotion codes to give away to 5 lucky readers! 
The first and mandatory entry is to leave a comment on this blog post letting us know what you are most looking forward to in using the Your Turn – Kid Timer app with your kids, making sure to leave your email so I can contact you. 
You can have a second (optional) entry by 'liking' Your Turn iPhone App on Facebook and then leaving a comment here letting me know that you did.
The giveaway ends at midnight on Friday, December 16th!   Winners will be randomly selected.  I will share the winner's names online and notify through email as well.  So, please be sure to leave a way for me to contact you in case you win!
Update:  This giveaway is officially closed.  Please see the winners, above.
You can also BUY IT!
If you don't think your family can wait to start using Your Turn – Kid Timer, please know that it IS available for purchase in the Apple App Store!  Between now and January 31, 2012, Your Turn – Kid Timer is on sale for $1.99!  (Shameless plug, I know.) 
Now, instead of hearing bickering, I hear, "It's your turn!"
Ahhh….some peace and quiet….just in time for Christmas =)