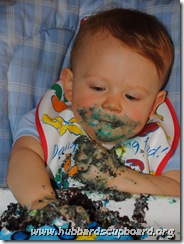 and WEAR it, too!
We recently celebrated the first birthday of our fifth little one.  We have given each of our children a 'smash' cake on their first birthday.  They do more playing than eating and it is always fun to watch, especially when they reach out their sweet, caked hands to share some with you =)  When our fifth little guy was presented with his cake, the older kids started calling it his 'pound' cake – and rightly so.  He dug in with both hands and had cake smeared along both of his arms before we whisked him away for a bath! 
And, since a mother has a right to some reminiscing, here are our other kids with their 'smash' cakes for a comparison of messiness…
Our first child daintily pecked away at bits of her cake.
Our second child held the record for messiest and best demolition of her cake (until her 2nd baby brother came along)!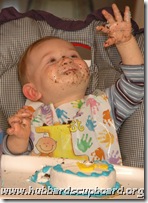 Surprisingly, our first boy didn't dig in as we thought he might.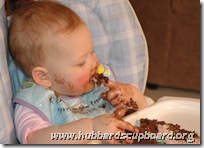 And, our fourth little one was fairly neat as well – but she had fun!
Cake, anyone?