…from the comfort of our own home!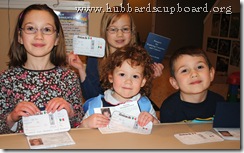 (Our 3rd grader, 1st grader, 3 year old, and preK kids with their
'passports' and 'airline tickets' – ready to travel!)
In my post about our curriculum choices for the 2010-2011 school year, I mentioned that it was difficult for us to set aside My Father's World Exploring Countries and Cultures until our family was more ready.  My husband and I purchased MFW ECC at the homeschool conference last year (a month or so before I gave birth to our 5th little one).  In August, at the start of our school year, our infant was still not sleeping through the night and his daytime schedule was off (compared to the predictable pattern our other children got into at the same age).  So, I held off on starting ECC.  We began our school year with math, language arts, daily Proverbs reading, chores, a simple introduction to the orchestra, and review of previous memory verses.  It was just the right amount most days and too much on other days, depending on how the toddler and baby were doing (and how much sleep I had been able to get the night before =)  )
By October, I became impatient and forced myself to start ECC.  I spread out the first two weeks over the entire month (about 5 total weeks).  Those first two scheduled weeks have SOOO much to cover anyway and I KNEW that I would need a slower pace with a preschooler, toddler, and baby in tow!  The kids LOVED the curriculum and I knew that ECC was a good choice for us.  However, I was in tears and overwhelmed.  I tearfully shelved MFW ECC through November and December, returning to what we had started the year doing – in addition to a few Thanksgiving and Christmas activities.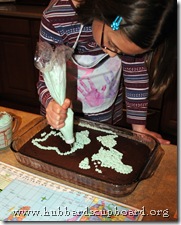 I am pleased to say, that at the start of second semester, we finally began using this wonderful curriculum!  By January, our baby was still not sleeping through the night, but at least his daytime routine was on track.  Giving our family some additional time with the baby was exactly what we needed.  Things are going much more smoothly now, but I have to admit that we still don't complete all of the science and art activities each week.  This is difficult for a 'box-checker' like myself.  So, I can either stress over it OR…
realize that this is a short season of having several precious little ones around.
remember that ECC is the start of a 5 year cycle and that we will, most likely, repeat this.  We don't have to do everything the first time around!
tell myself over and over that curriculum is only a tool – I am not to be a slave to the curriculum!  I need to pray about what is listed in the curriculum and choose carefully what pieces to use or exclude from week to week for our family.
remind myself that Christ has gone before me.  He created each child in our family and knows exactly what each one needs –and when.  I can do my best to train them spiritually and teach them academically, but I have to leave the results up to God.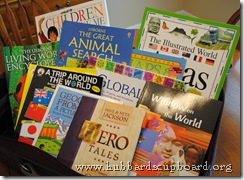 As for the actual ECC curriculum – We are enjoying every minute of it.  Our family is especially loving the missionary focus – Hero Tales, Window on the World, YWAM missionary biographies, etc. –all excellent materials.  The Matthew Bible study and memory verses are going well also.  
My 3rd and 1st grader are also having fun learning geography with the game that is included in the student sheets.  They also both look forward to locating the countries within each continent and placing the flag stickers in their Flags of the World sticker booklets.  The geography readings are, honestly, not MY favorite, but the kids like to hear them and my oldest is starting to want to read them aloud to the younger kids.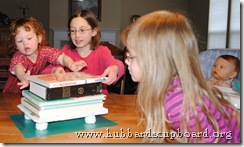 For each science reading, the older two children are to narrate to me what they learned and then they copy it into their science journals.  This has proved more difficult for my 1st grader, but my 3rd grader is doing well with it.  For any hands on experiments, everyone likes to participate!
Also, to save time during the actual school day, and since my kids like to set up airport security and an 'airplane' each time we travel to a new country, we have been traveling to our new destinations on Sunday evenings.  That just seems to work better for us =)  We also have been able to view the Schlesinger videos that are available for each country for when they 'arrive' to the new country.
Here are some of the ECC activities that we have been able to do with our family (and the ones for which I actually remembered to grab the camera =) ).
Navajo sand art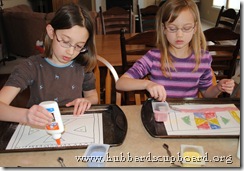 our homemade pinata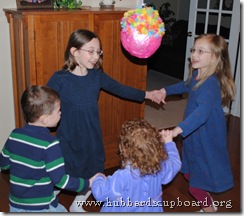 sugar cube igloos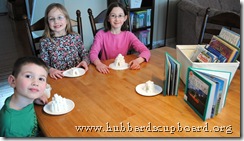 our backyard igloo
experimenting with Impressionism
our Lego Eiffel Tower
We are only about half way through the curriculum at this point, but plan to either continue our exploration through the summer or pick it up in the fall.  Either way, we're off to explore more of God's wonderful world!