I have a LONG list of things that I want to accomplish this summer.
Not one of them got done today, but not because I didn't try.
Instead…
I nursed the baby.
I looked in the baby's bright blue eyes and told him that I loved him.
I held a fussy baby and prayed to know how to help soothe him.
I washed the dishes.
I got my heart checked by a cute, in-house, princess doctor.
I swept up the noodles that strayed from the kids' sensory tub.
I filled, ran, and emptied the dishwasher.
I prepared lunch.
I wiped cheesy wild rice soup remains from a toddler's face.
I kissed a toddler's knee after she fell and wiped away her tears.
I changed diapers.
I tried to keep my calm as a little one in training became wet once again.
I cried out and prayed to the Lord for strength.
I listened to a 6 year old read a funny story and heard her laugh.
I helped a 4 year old make a list of foods that he wants to bake when he grows up and becomes a chef.
I washed, dried, and redid sheets.
I sang silly songs and got to dance.
I kissed the sweet cheeks of a sleeping infant.
I shared a lift the flap book with a toddler while lying on the floor.
I heard God's Word being sung through a child's voice.
I got my order taken by a little waitress, over and over again.
I got to comfort an 8 year old with a headache that doesn't seem to go away.
I died to self as things I wanted to do were put aside.
And, I nursed the baby again, washed the dishes again, changed diapers again…
I got nothing done today – at least by this world's standards.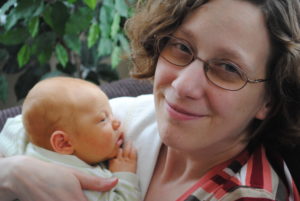 Galatians 6:9
Let us not become weary in doing good,
for at the proper time we will reap a harvest
if we do not give up.