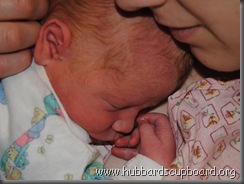 My precious little one, I'm a little busy right now…
-caressing your smooth sweet baby skin,
-smelling your newborn baby hair,
-holding onto your two little feet and long skinny toes,
-looking in awe at your two small hands and tiny fingers grasping onto mine,
-watching you stretch and uncurl your long skinny legs,
-running my fingers through the ends of your fine baby hair,
-tracing the outside edge of your perfectly formed ears,
-feeling you lean against me, knowing you feel loved and safe, as you lay your head on my shoulder and rest your arm on my neck,
-marveling at God's Hand in the creation of you.
For you created my inmost being.
       You knit me together in my mother's womb.
I praise you because I am fearfully and wonderfully made.
       Your works are wonderful,
       I know that full well.
My frame was not hidden from you
       when I was made in the secret place.
       When I was woven together in the depths of the earth,
your eyes saw my unformed body.
       All the days ordained for me
       were written in your book
       before one of them came to be.
(Psalm 139:13-16)
I'm thanking God for you, little one.