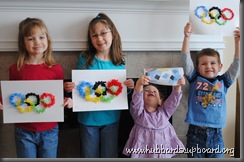 Our children raved about our family's 2008 Summer Olympics so much that before the 2010 Winter Olympics even began, they were asking what we were going to do to celebrate and compete at home.  I have to admit that the winter sports were much more challenging to try to recreate in order to have some fun learning experiences for the kids.  I searched online, combined ideas from various sites, and finally came up with a plan.   So, without further adieu, come follow our Olympians as they compete at the 2010 Indoor Winter Olympics!
Opening Ceremonies
Our Opening Ceremonies were not grand by any means, but it built excitement that would lead up to the Olympic events for the day.
We located Vancouver, British Columbia on our globe (as well as the other countries for which we had flags).
Each child represented their chosen country. We attached mini flags to our shirts and to our winter hats to indicate which country we represented.
We reviewed and discussed Colossians 3:23–24.
The children made Olympic Rings from tissue paper.

To get more familiar with the winter sports involved in the Olympics, we viewed photos of real events and watched a few short video clips from the official Olympic site.
Next, they played Winter Olympics Bingo.

Our Olympic Events
Figure Skating
The Olympians 'skated' in their sock feet, attempting to spin and twirl on one foot, jumping and landing on one foot, and of course, performing the free skate.
Ice Cube Bobsled Race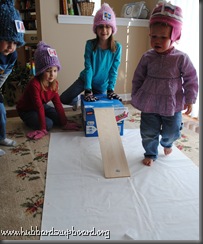 Yes, we had to bundle up…After all, it's cold on the track!
Olympic Ring Toss
The Olympians attempted to throw diving rings onto a full bottle of pop.
Snowball Throwing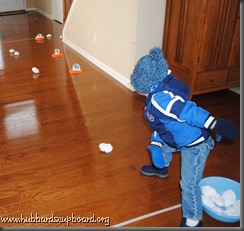 Should he have been disqualified for stepping over the line?
Sight Word Ice Hockey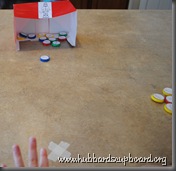 This was a cute idea from Making Learning Fun.  You could also do addition or subtraction facts!
Additional Activities
For added fun, we brought some snow inside to discover ways to melt it.  Each child received an ice cube as well and tried to be the first one to make it disappear.  They tried adding salt to it, pouring warm water over it, rubbing it between their hands, and even tapping it.
The kids also did a Roll and count activity, Olympic word searches (1) (2), and watched as their 'ice' hockey player and figure skater glided across the counter.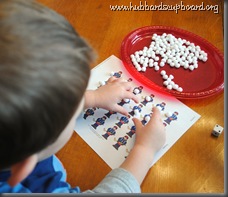 Closing Ceremony
Instead of simply passing out gold medals to all of the Olympians, I had them work extra hard to earn their gold.  To their surprise, they were given bowls filled with ice treasures!  The Olympians, at first, experienced a bit of a dilemma, but then they began to enjoy the challenge as they dug, picked, scraped, brushed, pounded, and poured hot water over the ice in order to get to their medals!
At the very end of the day, we even enjoyed a surprise Olympic sized cookie!  Congratulations to all of our Olympians.  They showed great sportsmanship and cheered each other on.

What a fun, but exhausting day, celebrating the winter Olympics –INDOORS!