I have no problem with insects and spiders being outside.  That's where they belong – in nature.  Let every insect and spider be forewarned, however, that once they crawl into our home they are traveling into dangerous territory!
We had our lawn service spray the foundations of our home a couple weeks ago – to keep the insects and spiders OUTside.  Well, all this week we have been seeing ants INside on our main floor and up in our bedrooms.  Argh!  The lawn service came back out and reapplied the spray and left a note stating, "Please remember:  This is a barrier treatment.  It not only stops insects trying to come in, but also prevents them from going out…"  So, since the ants were here before they sprayed, they are now stuck inside our home and have no place to go, except up and inside our house.  Just what I wanted to hear =)
So, to eradicate the ant colony(ies) we need to get some ant bait/traps.  (Love, if you are reading this, please stop by and get some ASAP =)) Until then, I have been seen on my hands and knees, squishing the ants, sweeping multiple times, and removing rugs or anything else that would normally be on the floor in the areas where we have spotted the little guys.  I have been doing this so much in fact that one day this week our toddler was calling to me from the basement playroom and asking, "Smoosh ants, Mommy?"  Um, yes.  The kids have even got in on the 'fun' of finding them…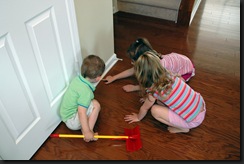 You know, I am going to great lengths to make sure we get rid of the ants in our home, but what measures am I willing to take to eradicate the sin areas in my life?  One of the areas that God has recently pointed out to me is my use of time -specifically my time spent on (uh, oh) the computer.  Do I really need to check my email every time I go to the office to get something? Must I check the homeschool forum to see if any additional answers to my question have been added –again?   Do I have to check your blog to see if you have posted any new entries for me to read ?  The answer I am hearing – No! At least not as often as I have been.  Nothing is wrong with these things in and of themselves.  I need to have support and correspondence with other moms, but I also need to set some limits so that I can better manage the affairs of my household.
Maybe I should place my Bible or a verse to memorize near my computer and read that instead.  Then, I could go read a book to my children, sit on the floor and play a game with them, play cars, etc.   I want to build strong and deep relationships with my children.  That doesn't just happen by chance.  I have to make my little ones a priority over those times of 'quick' checking of my email and what I am discovering are actually a few moments of trying to escape my responsibilities.
Be very careful, then, how you live—not as unwise but as wise, making the most of every opportunity, because the days are evil. Therefore do not be foolish, but understand what the Lord's will is.
Ephesians 5:15-17