Some new Word Family Resources
to correspond with the original Word Family Booklets
are now inside Hubbard's Cupboard!
Here's a quick peek!
Word Maker and Sight Word Find
Word Family Match
Word Family Houses and Pictures/Words to Sort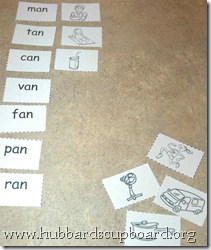 For descriptions of the above activities and free printables
to go along with 14 different short vowel word families,
please visit the Word Family Resources at Hubbard's Cupboard.