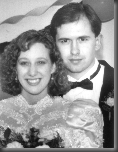 I thank God that He has given me a very patient, loving, tender hearted, servant hearted, wise, and godly man to be my husband and the father to our children. God is faithful.
On May 15, 1993 (15 years ago today!) Chris and I were married. Chris was 21 and I was just 19. Looking back, it is hard to believe that we were married so young, but leading up to that day, we had already dated for five years. I have known my husband for over half of my life! What a blessing.
I was reminiscing today with the kids, looking at our wedding album and humming a song that was played at our wedding…I Will Be Here by Steven Curtis Chapman.
Fifteen years later, we now have four more beautiful blessings from our Lord. They are 6 years, 4 years, 2 years, and 3 months old. They all absolutely adore their daddy. I love watching him interact with each of them – whether it is reading the Bible with them before bed, rough housing with our little guy, dancing with the princesses, lovingly holding and comforting our littlest one, or taking the time to sit down and pray and discipline them. He is faithful in his role as their daddy to them.
Thanks be to our faithful God!
Happy Anniversary, Love! I love you and feel blessed to be your wife.
Love,
Misha